Areas of Surgery
Skin Surgery
Case number 1 - Skin cancers, wherever on the body, need removal by addressing two issues: complete removal and minimal disfiguring wound closure. Using reconstructive surgery techniques will ensure the best possible final appearance without compromising in disease cure.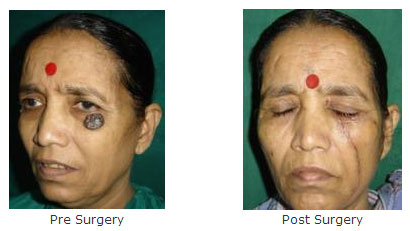 The lady shown had Basal Cell Carcinoma (BCC) on the face in close vicinity to the eyelid. Careful planning has achieved an acceptable final appearance by minimal scars and by avoiding distortion of the eyelid due to a tight wound closure.
Case number 2 - Chronic (Old) Skin infections in an otherwise healthy person can make life miserable due to the continuous foul-smelling discharge. The radical surgery needed to cure the infection becomes difficult due to the extensive wound that results by removing all infected tissues.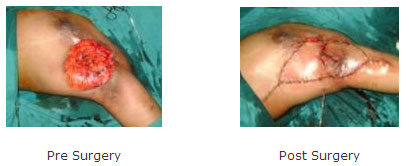 Old nagging infections are common in the underarm (axilla) and groin area as in the above person with 'hidradenitis suppurtive'. Adequate removal results in an extensive wound; careful wound closure by reconstructive surgery can ensure minimal scars and smooth outcome with minimal stiffness in shoulder movement.
Case number 3 - Common skin CYSTS can be removed without much trouble, but the final outcome depends on the wound closure technique.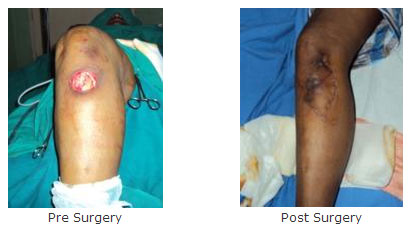 This skin cyst (Dermoid) near the knee joint is removed and closed by using a local skin flap. Delicate planning has achieved a cure with pleasing appearance and negligible stiffness. sConventional techniques would result either in stiffness due to a tight wound closure or disfigurement due to use of Skin grafts.
Case number 4 - keloids occur due to unusually excess scarring of a skin wound; even the trivial wound of ear piercing. They are extremely distressing once they begin. The usual sites are the pinna (ear), chest and the shoulder region.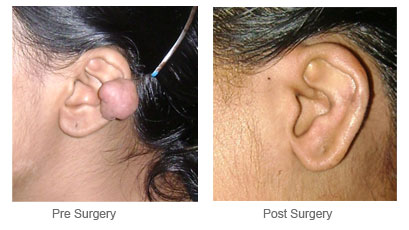 Occationally, cure for the problem can be attempted as in the example above.