Areas of Surgery
Micro Surgery
Re-implantation of amputated body parts can now be done with good results, consistently- so long as the severed part is reasonably intact. Results are extremely gratifying.
Case no. 1 - Finger replantation - this lady had her ring finger pulled off while trying to board a bus near Mangalore, when the finger got wedged due to the ring it had! She reached us in a few hours, and the finger was reattached successfully in a 4 hour surgery.

Today, just 4 months after the surgery, the fingers are moving well-making it difficult to even identify the injury.
Case no. 2 - Hand replantation - this gentleman had his forearm chopped off in an auto accident. Though it was successfully reattached in a 7 hour surgery, finger movements are not yet satisfactory-in spite of aggressive physiotherapy over the next 6 months.

Case no. 3 - Nerve grafting - injury of various types leads to loss of nerve segments leading to severe disability. Progress to a permanent deformity can be avoided by corrective surgery in a few weeks.

Microsurgery techniques are essential to get the maximum from this procedure.
Case no. 4 - Glomus Tumour - this results in excruciating pain.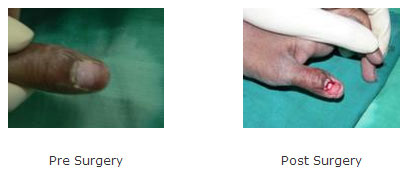 However complete removal of the swelling (below the nail bed in this case) relieves the pain completely, permanently-almost dramatically.
Case no. 5 - Finger tip injury - this adult male sustained injury in an office - though seemingly minor, the location - the part of the hand used to pinch, grasp - makes even simple daily activity difficult, unless correctly perfectly.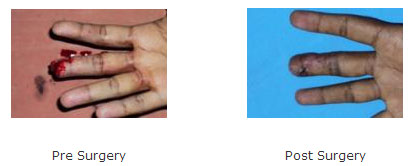 Using a local Flap, the wound is made to heal, all sensation needed for regular activities are preserved and the finger tip shape is completely restored. The nail, however cannot be replaced at the same time, in this case.